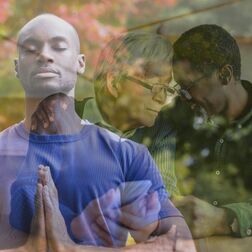 Love Without Apps: a Zen Path to True Love
WHERE: Bodhi Manda Zen Center in Jemez, New Mexico
WHEN: Saturday August 10 - Thursday August 15, 2019
WHO: For Gay, Bi, Trans and Questioning Men!
Love is not a thing to be earned, possessed, won, or given ... it is the quality of an open heart, alive to itself and its world. Discover the power of meditation to overcome the challenges of loving yourself, loving each other & finding someone to love -- free from the frustration, disappointment and addiction of apps!
---
---

Loving Yourself, Loving Another, & Finding Someone to Love ...



---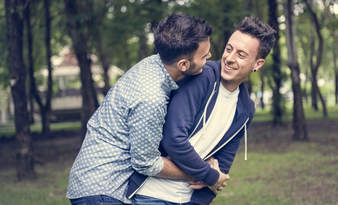 How many of us have wasted minutes, hours, even days in the hunt for love, or even a little connection: perfecting ourselves, presenting ourselves, creating profiles and checking the apps on our phone constantly, only to find ourselves somehow incapable of really enjoying our lives or the people in them? Have you noticed that the very things you're doing to meet other men make you (and them!) less available for real connection and intimacy? Has the hunt become an addiction of its own? If you have, this is the retreat for you!
For six days, we invite you to unplug from your devices, catch your breath, and remember what it feels like to relax, play, and enjoy the company of other men without the painful quest to possess. In this six-day meditation retreat, we will explore the nature of our own addictive patterns and the ways those patterns rob us of the things we want. We will discover a way of meditating that cultivates true presence and intimacy with our lives, opens our hearts, and makes us available to the goodness and love around us. Finally we will each create, with the support of our brothers, a plan for keeping our hearts open and cultivating deeply fulfilling relationships with ourselves, each other, and our world, free from the compulsive patterns of seeking that have kept us from what we truly want. Join us for a week-long exploration of joyful meditation, powerful conscious breathing, and learning how to relax your mind and body into joyful, loving presence. You will never think of love, your breath, your meditation, or your life, the same way again!
​

You will:

understand the nature and purpose of your own compulsive patterns around seeking love and connection
develop more effective and rewarding strategies for experiencing the love you truly want
learn specific tools for cultivating loving-kindness, compassion, joy, and equanimity towards yourself and others
cultivate true intimacy: a relaxed, responsive, and open heart​

Discover a way of meditating that:

works with your body instead of against it
embraces your feelings and desires instead of shutting them down
cultivates deep relaxation instead of rigidity
helps you enjoy your life instead of escaping it
deepens your relationships
helps you surrender into the flow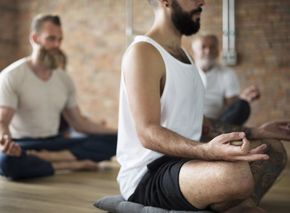 This restful, playful and profound meditation retreat will give you a foundation in sitting and walking meditation as practiced in the Zen Buddhist tradition, integrated with a wholehearted and embodied exploration of being fully human through powerful conscious breathing, movement practices, dance, deep sensing exercises, chanting, and heart circles. Conscious breathing, the cornerstone of spiritual practices around the world, will show us how to relax habitual patterns in the mind and body, soften our rigid sense of self, perceive the subtle fields of living energy and interdependent relationship that we arise from, and touch the truth of our own awakened nature. We will also be drawing on some of the most beautiful Buddhist teachings from Dogen and other Buddhist practitioners throughout time in our exploration and practice of the four boundless attitudes in our everyday lives. Every afternoon will offer free time to unwind and build friendships that can last a lifetime.
FREQUENTLY ASKED QUESTIONS ABOUT SPIRIT JOURNEYS RETREATS
1. Who are the participants? What is the general age of the participants? Is there a minimum age limit?
Our participants include individuals from all walks of life. Men and women who are gay, bisexual, lesbian, straight, transgender, questioning, etc, from every cultural and ethnic background. Our average age range is between 35 and 75, but we've had some 80 year olds at the front of the pack!
2. Is this a retreat for hookups and sexual activity? What about drug use?
Spirit Journeys gives people a chance to make new heartfelt relationships, often deeper and more heartfelt than the typical gay and lesbian tour companies and cruise ships make possible. We encourage people to maintain sobriety from addictive patterns and recreational substances in order to take advantage of the wonderful company around them.
3. I'm spiritual but not religious. Is this retreat going to preach any particular type of spirituality or religion?
We encourage our participants to bring their own deepest wisdom and spiritual beliefs to the community that we create together at every event. We invite you to participate in ceremonies and practices from religious traditions around the world. At the same time, we respect and encourage you to participate at your own level.
4. I'm not totally out. Do I have to worry about being outed in any way or will my photograph be taken?
We care deeply about the privacy of every participant on our retreats and journeys. We ask our participants to join us in getting permission before taking any photograph that could identify anyone else on the trip, and we only share your contact info with other participants in ways that we specifically authorize.
5. I like my own private space. Are there single bedrooms available? What can I expect from the accomodations?
Every journey and retreat includes free time so you can have a little time to yourself, and single accomodations are available on every journey for an additional fee.
6. Am I required to attend all activities?
We make ample free time for you to do your own activities and we will certainly work with you around special needs. Every activity builds on the others and all are strongly encouraged to attend.
7. Can I smoke, use drugs, or bring alcohol to the event or retreat?
We make space for smoking and caffeine use although we ask participants to refrain from all other drug or alcohol use. Some retreats include alcohol at the final meal and/our outings for those who wish to have a drink.
​
---

Included in your experience!

6 days/5 nights of lodging and lovingly prepared vegetarian food
traditional Japanese hot springs on site
soaring red rock canyons
training in the foundations of powerful conscious breathing and meditation
free time every day for quiet reflection and connection
field trip to the ancestral cliff dwellings of New Mexico


​This retreat is perfect for beginners and experienced meditators alike! No previous meditation experience necessary!


​Our home for this retreat, the magical Bodhi Manda Zen Center, is nestled by the side of the rushing Jemez river in the soaring redrock canyon walls of the southwest. The Zen Center's natural hot spring pools are accessible 24 hours a day and become a wonderful gathering place for soaking (clothing is optional after dark), conversation and pure relaxation. Whether you are soaking in the private hot springs at the Zen Center, strolling through the local galleries of Jemez Springs Village, or watching the hummingbirds, drifting clouds, or star-studded New Mexican sky, this enchanted landscape will become a part of you forever.
---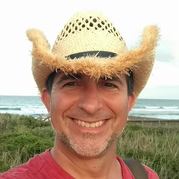 Hunter Flournoy (pictured right) is the owner and director of Spirit Journeys. A heart-centered life coach, therapist, and spiritual healer, Hunter teaches skills for self-love, conscious breathing, and spiritual practice to help people break free from shame, trauma, and addiction, and create joyful lives. He is a certified Somatic Breath Therapist and a pioneer in the use of breathwork in trauma and addiction treatment, and his work integrates two decades as a licensed psychotherapist with twenty-five years of experience in the world's shamanic and mystical traditions, including the Buddhist, Sufi, Eastern Christian, Toltec, and Currandero traditions. Hunter offers individual sessions by phone and in person, retreats, ceremonies, and journeys around the world. To learn more about Hunter and his work, go to www.hunterflournoy.com.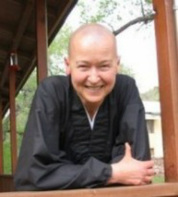 Jiun Hosen, Osho, was appointed Abbess of Bodhi Manda in 1989 and then again on April 10th, 2015. Having begun her training with Joshu Sasaki Roshi in 1979, she has been residing at The Bodhi since 1980. Ordained as a Zen nun at Bodhi Manda Zen Center on April 30, 1983, she received the "Suijishiki" ceremony at the Rinzai-ji Zen Center in Los Angeles, California on July 21, 1988 that recognized her as an Osho (Zen priest). Her compassion, humanity, and dedication have been inspiring Spirit Journeyers for over twenty years. To learn more about the Bodhi Manda Zen Center, visit www.bmzc.org.
---
---
FULL COST
: $1,495.00 Double Occupancy, $1795 Single Occupancy.
$100 early registration discount if you register by May 12, 2019
. 50% of the full cost is required by June 11, 2019. Payment in full is required on June 26, 2019. Registrations are gladly accepted after June 26, 2019 based on availability.
RETREAT INFORMATION
:
Our retreat begins at 5:30pm on Saturday August 10, 2019. Please plan to arrive no earlier than 1:00 pm and no later than 4:30pm so you have time to settle in. The retreat ends after lunch (around 1:00pm) on Thursday August 15.
You are responsible to travel to and from Jemez Springs, NM. If you are flying in and renting a car to drive to the retreat, please arrive into Albuquerque Airport no later than 1:00pm. This should give you plenty of time to arrive at the Center by 4:30pm and get settled in. Please book your return flight for 4:30pm or later on Thursday August 15. Jemez Springs is located 60 miles from Albuquerque Airport, and while there is no public transportation from Albuquerque Airport to Jemez Springs, the Zen Center will provide round-trip airport transfers at specific times; see below for details. Jemez Springs is 1 and ½ hours drive from Santa Fe. The temperature in Northern New Mexico in June is delightful, days in the 80's and nights in the 50-60's, making this an ideal time of year for our retreat.
AIRPORT TRANSFERS
: The Zen Center will be providing round-trip airport transfers for a cost of $35.00. The pickup times on August 10 at Albuquerque Airport going to the Zen Center are 1:00pm and 3:00pm. Please arrange your arrival flights accordingly. The departure on August 15 from the Zen Center back to the Albuquerque Airport is 1:30pm. Please book your return flight for 4:30pm or later.
INCLUDED
: 6 days/5 nights lodging, dinner Saturday night, three meals Sunday-Wednesday, breakfast and lunch on Thursday, and all workshop activities and handouts.
NOT INCLUDED:
Transportation to/from Bodhi-Manda Zen Center,
single lodging supplements
, travel insurance, personal items, tips, items not mentioned in the program, and extras.
​
OUR POLICIES:
Cancellations made before June 11, 2019 are subject to the forfeiture of all deposit monies paid (unless we can find another person to fill your reservation). Reservations cancelled between June 11, 2019 and June 25, 2019 are subject to a cancellation fee in the amount of 50% of the workshop cost. Reservations cancelled on or after Thursday June 26, 2019 are subject to a cancellation fee in the amount of 100% of the workshop cost and are non-refundable. You may want to consider purchasing a commercial travel insurance policy that would include trip cancellation protection.
​
INFORMATION ABOUT THE BODHI MANDA ZEN CENTER:
Lodging at the Zen Center is simple, rustic, and comfortable - each bedroom accommodates two to three persons. A limited number of single rooms are available for a single lodging supplement. The Zen Center recently renovated many of the bedrooms and bath facilities, and completed an exquisitely designed, award-winning new meditation hall. The Center follows a mostly vegetarian diet, but works hard to accommodate individual dietary needs. Wireless internet is available. The Zen Center's natural hot spring pools are accessible 24 hours a day and become a wonderful gathering place for soaking
, conversation and pure relaxation. There are three pools ranging from cool to warm to hot, with a cold rushing stream nearby for refreshing dips. Participants enjoy relaxing and playing in these hot springs at night under the New Mexico star-studded sky. Feel free to learn more about the Zen Center by visiting their web site at
www.bmzc.org
.
​